ASA is corporating with China International General Aviation Convention (CIGAC) organization to help invite USA aviation manufacturers to attend this exciting event. This event will be held on October 15-19th in Shanxi Province in China.
CIGAC event, held every two years, is approved by China's Central Governments and is one of the major GA events in China. This is the first year ASA will be involved in this event. ASA will support by offering a 40% discount on booth fees.
ASA will provide the best service to help you promote your company and products in China. If you would like to join the ASA team, please let me know by August 20th, 2015.
For more information, please contact us.


ASA office:
ASA Office: 1(877)888-8610
ASA Email: ASA@AeroSport.org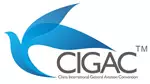 CIGAC office:
Director – Belinda Pan: +86-29-85395014
Email: cigac2015@xlchina.biz